BLOSSOMING AND BECOMING (Movement Medicine)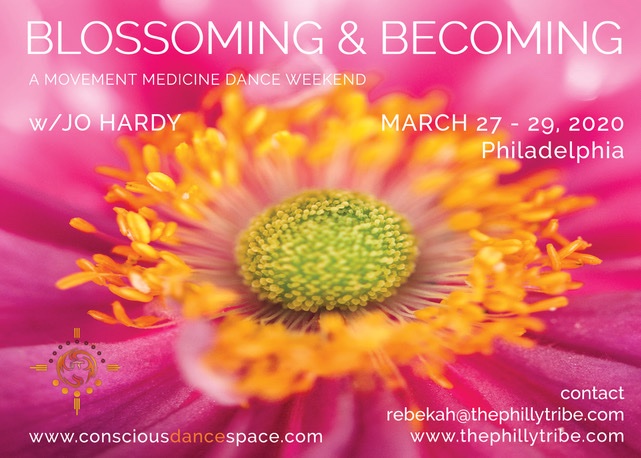 BLOSSOMING & BECOMING

a Movement Medicine Workshop
w/Jo Hardy

MARCH 27-29
Friday 7-9:30pm, Saturday 10:30-8pm, Sunday 12-6pm

Pig Iron Theatre Company
1417 N. 2nd St.
Philadelphia, PA 19122

$225 before March 1
$265 after

To reserve your space for this workshop, contact rebekah@thephillytribe.com

"We co-create with the universe. The more creative our participation, the more creative the universe and the Great Mystery becomes. To live in the universe of creative becoming--what honor and what responsibility."--Chris Cleave





How can we deepen our ability to be in a co-creative relationship with The Great Mystery, to listen more attentively to the whisper of our heart dreams, and to follow no matter what we encounter on the road?



Conscious, creative becoming means sailing at the edge of not knowing rather than contracting back into our fears and insecurities. It means developing an open, curious buoyancy that supports us to go where our heart has a yes, where we follow what we love and we embody our deepest values.

Through Movement Medicine practice we will deepen our relationship to this process of becoming, open our minds to receive new inspiration and reclaim ourself as a co-creator with life. We will dance and dance, see and be seen, tenderly reveal the whispers of our hearts and explore heart inquiry questions such as:

How do we face into the unknown whilst relaxing into our self "as we are"?

Where do fear, doubt or con tool kick in?

What qualities and capacities support conscious, creative becoming?

What unique gifts and potentials are blossoming within?

What is our unique contribution to the co-creative flow of life?.


Jo Hardy has been a Faculty Member of The School of Movement Medicine since 2007. She is also an accredited 5Rhythms® teacher (Waves and Heartbeat levels) and an Open Floor teacher, teaching workshops in many places worldwide, including ongoing programs in China. Jo was a body-based psychotherapist, trainer, and supervisor for 25 years and currently has a Transformational Coaching, mentoring and supervision practice. Her work is informed by mindfulness, dynamic heart inquiry, embodied resourcing, and Johanna Macy's Work that Reconnects.

About Jo, Ya'acov and Susannah Darling Khan, the founders and directors of The School of Movement Medicine, say, "We have known Jo for many years and recognize in her a truly beautiful blend born of her many years of dedicated practice and inquiry. She is wise, funny and a truly unique dancer with a heart of gold and the uncompromising intelligence to match. We value the particular wisdom and depth that Jo brings, linking the personal, archetypal, and the collective. She is a force of nature who will stay with you wherever your journey leads."


BRAVE (5Rhythms®)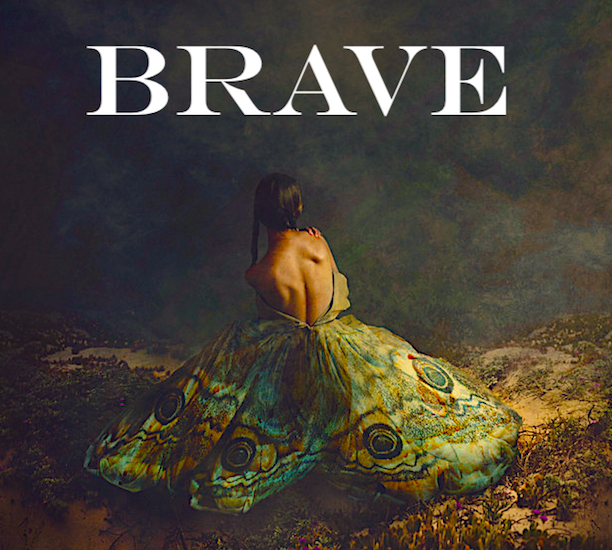 BRAVE: A 5Rhythms® One-day Workshop with Rebekah Zhuraw
January 11, 2020, 12-6pm
Summit Presbyterian Church, 6757 Greene St. Philadelphia, 19119
$100 before January 1, $125 after
Contact: rebekah@thephillytribe.com to register or for more information.
Life calls us to be brave. To dream big. And sometimes to transform our lives into something bolder and more beautiful than we can even imagine.
Sometimes you have to stand up and walk across the floor whether you have confidence or not. Sometimes you have to recreate yourself again and again. To do so is an act of bravery.
It takes bravery to be fully yourself. To walk the edge of courage & vulnerability. Tender and true.
What in your life is calling you to be brave? In this workshop we will explore what it takes to dare to be fulfilled.
Rebekah Zhuraw is a certified 5Rhythms® teacher & member of the 5RTA. This workshop is a Waves level class, open to all dancers & suitable for beginners, and counts towards the 5Rhythms Waves teacher training requirements.